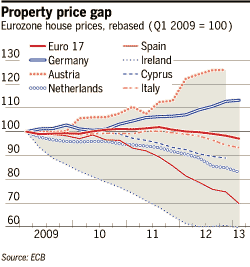 The Bundesbank recently warned that German property prices are close to a boubble. Also in Switzerland, well-known property experts, like those of UBS (the largest bank in Switzerland) who are calculating a property bubble index already since years, report that the signs are more and more showing the fragile state of a property price bubble for certain regions.
Yet, in Italy, even for the second quarter of 2013, property prices in general were slightly down again.
The comparative EU data have been published as a chart in a recent FT article. The figure shows how divergent the development of the property prices were - since the financial crisis of 2008. Regarding the relative property prices between Italy and Germany, for instance, it shows that compared to German prices, Italian property has become roughly 20% cheaper. Compared to Austria, the Italian property prices have become even more than one third cheaper. And compared to Switzerland, which is not depicted on the chart though, the gap has been widening even more.
Conclusion: Well, there are many conclusions. Yet, at least one could say that the case for buying Italian property has become much stronger, compared to the German-speaking Central-European countries. 
We shall offer more arguments in our following blog contributions on why it is a good time to buy Italian property!
Rolf T. Boeni
12 November 2013