The desire to live in Tuscany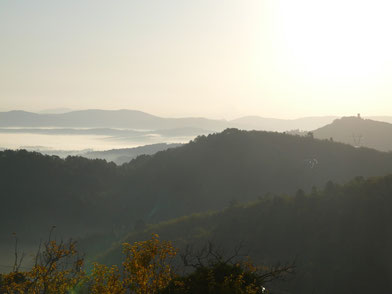 Tuscany is something special? Yes - no doubt!
We know from our own experience: It's good to live in Tuscany. The landscape, culture, art - also food and wine - all this entails in Tuscany attractions for several lifetimes! And then this very attractive light ...!
Our estate"Ventena Vecchia", which we operate as a farm and agriturismo, has a hilltop, calm, 360° panoramic position, excellent transport links, and it is in the heart of Tuscany - 45km from Florence, 30km from Arezzo, 50km from Siena.
We spend a lot of time here. It's a lot of work, but we also enjoy the location, the environment and the friends that we have found here ---- and of course our olive oil, organic and extra virgin, which we produce ourselves.
Tuscan real estate
We have access to extraordinary properties that - for reasons of discretion -  can only be found on personal contacts and through our local network, and not on the Internet.
We do sell or convey property - but not only. We support you even after the sale. Because we have been living here for a long time, we can give you access to our own experiences and to our network of proven architects, engineers, craftsmen, etc .. We work with trustworthy people and give you access to them.
We respect the protection of personal data. Therefore, we can often present little information and photos publicly. Please contact us if you want to know more and see us.
Often it is the great location, the good soil, the great view, which distinguishes an estate, not the standard of construction. In other words - often renovations are necessary. We can provide architects, contractors and other professionals. 
If you also want to enjoy the Tuscan sun and want to search or visit an estate, villa or winery in Tuscany, please contact us. To ensure the confidentiality of data we can present to you many more properties than you can see on this website.
In some cases, long-term renting contract may also be possible.
Rolf T. Boeni
M +41 79 322 4852
By the way: Our estate Ventena Vecchia (with vacation apartments) is an excellent starting point to discover Tuscany, or to visit and inspect properties. Booking information: