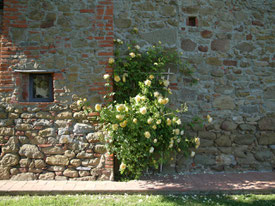 Castello....
Tenuta....
Fattoria....
Villa....
Borgo....
The need for discretion and confidentiality
Many owners/sellers of attractive real estate in Tuscany are interested in discretion and privacy - for example, for safety reasons, for economic reasons, for social reasons. And often, this concerns just the "most spectacular" estates, because there the need for discretion is naturally high.
Thanks to contacts and our network of local partners, we have access to owners of exceptional objects that cannot be found on the Internet for reasons of discretion.
Regarding the following properties, we can offer a few keywords only:
Exceptional, very well renovated Castello and large winery - more than 1 million bottles. Very large land and many buildings. Depending on the acquisition of shares € 65 to € 85 million.
Landmark: Well-known Castello and winery. Top location. Top Quality. Top-brand. Very representative. The 360° view from this place is second to none! Price on request.
1,000-year-old Castello with today's comforts, with much effort (and money) carefully renovated. Vineyards, olive groves and forest with a total of more than 100 ha, livable area about 2,000 m2, agricultural buildings and cellars> 2'000 m2. Region Siena. Price on request.
Agricultural estate in the Chianti with Villa from the 17th century (about 1,500 m2) and other residential and farm buildings, a total of nearly 5,000 m2. 50 hectares of vineyards.Price on request.
Absolutely extraordinary Castello with several towers, well maintained, 16ha wine, olives and park, Region Siena. Price on request.
Landmark: Villa with chapel, limonaia and other outbuildings (total of more than 6,000 m2) in a large park with rare and original plants. Less than € 9 million.
Huge 'Podere' - nearly 5,000 m3 at an excellent location with magnificent basic structure. It's not astonishing that this building was used as a location for a large film production. Solitary in wine-growing region with 360° view. With several annex buildings. Needs renovation. Approximately € 3 million.
Large winery estate - over 80 hectares of vineyards in an excellent location and more than 800 ha total holdings. Various restored and unrestored building. Agriturismo. Price on request.
Estate with Villa and farmhouse with absolute first class panoramic views - Also a prime location regarding roads and traffic. Top quality restored, about 700 m2 of living space plus basement and utility rooms, can easily separated into three units. Pool in the olive grove with panoramic views. Olive oil of the highest quality.  € 4.2 million.
The list is not exhaustive. Please contact us if you are interested in such an estate. Further information is available after a personal contact and after the signing of a confidentiality agreement.
If it is not already on our list, we're looking for your dream home or - estate. Please contact us and talk to us about your wishes and preferences.
Rolf T. Boeni
M +41 79 322 4852